---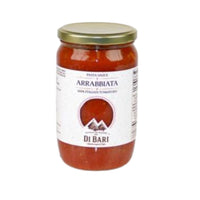 Di Bari Arrabbiata Pasta Sauce, 23.9 ounces
Di Bari
Crafted with non-GMO, sun-riped tomatoes grown in Puglia, where the Di Bari company resides, Di Bari Arrabbiata Pasta Sauce, or sugo all'arrabbiata as it is called in Italian, is a spicy tomato-based sauce infused with garlic, spicy dried red chili peppers, and olive oil.
In fact, it's the spiciness of this sauce that comes from the chili peppers that give Italian arrabbiata sauce its name: arrabbiata literally means "angry, mad" indicating the red-in-the-face heat you taste in this flavorful sauce. Don't let the name fool you, though. While the chillis pack a punch, the flavor of tomatoes and garlic temper out the heat to provide a delightfully zesty sauce that goes great with cuts of pasta both long and short.
About Di Bari
Deep in Southern Italy, not far from the Adriatic coastal city of Bari, is a small town called Turi. It's here where Tarall'oro, Di Bari's original company name, was founded in 1982. Di Bari/ Tarall'oro originally produced only taralli, a cracker-like Italian snack. The owners decided to expand their offering to include traditional cuts of artisan-made pasta. Naturally, the company entered to craft ready-made traditional Italian pasta sauces to accompany their pasta products, and these are the delicious, time-honored sauces you find here today under the Di Bari name. 

Ingredients: tomato pulp 79%, double tomato concentrate, extra virgin olive oil, sugar, onion, salt, garlic, chili 0.12%, oregano, acidity regulator: citric acid

Origin: Bari, Italy
Weight: 23.9 ounces
Price: $5.99