---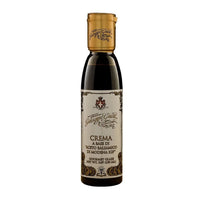 Giuseppe Giusti Balsamic Glaze, 8.45 fl oz
Giuseppe Giusti
Giuseppe Giusti Balsamic Glaze is made from reduced Balsamic Vinegar of Modena IGP*.  This classic Italian balsamic reduction glaze is dense and thick in viscosity and rich yet balanced in flavor. Drizzle this authentic Italian imported balsamic glaze to enhance the brightness of fruits, desserts, and vegetables, and to highlight the depth of flavor of Italian cheeses and grilled meats.
About Giuseppe Giusti Vinegars of Modena
Over four centuries ago, the Giusti family developed the first batch of oak barrel-aged balsamic vinegar in 1605. This collection of barrels is the "Gran Deposito" (Great Reserve) that imparts centuries of flavor to the grape must and aged wine vinegar that develops over the course of the long aging process.
Following the centuries of oral tradition, Giuseppe Giusti teaches us that the choice of grapes, the quality of the casks, and time are the fundamental ingredients for exceptional balsamic vinegar. The quality of the raw materials, the long aging time required (estimated about 12 years), and above all the casks that have been aging balsamic vinegar for centuries already are the elements that make Giusti Balsamic Vinegar Giusti so treasured.
*Indication of Geographic Protection, or Indicazione Geografica Protetta in Italian guarantees that the quality or reputation of your food is produced, processed, or prepared in a specific geographic region.
Shop gluten-free Giuseppe Giusti Balsamic Glaze from our online Italian grocery store and get the highest-quality balsamic glaze from the oldest producer in the world at a great price!
Ingredients: Balsamic vinegar of Modena 75% (wine vinegar, cooked grape must), cooked grape must, glucose syrup, modified corn starch. Gluten-free. Contains sulfites.

Origin: Modena, Italy

Weight: 250 mL, 8.45 fl oz.

Price: $7.99 each