---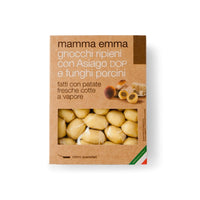 Mamma Emma Gnocchi with Porcini and Asiago DOP, 12.34 oz.
Mamma Emma
Tender, classic Italian gnocchi filled with seasonal porcini mushrooms and rich Asiago DOP cheese. Mamma Emma Gnocchi with Porcini and Asiago DOP combine prized ingredients for a luxurious, satisfying dish on its own, prepared with your favorite sauce, or simply dressed with extra virgin olive oil.
Their patented production process and inventive equipment preserve artisanal gnocchi recipes and methods from steam-cooking and peeling the potatoes, sieving, mixing potato with fresh eggs, type "0" wheat flour, and salt. It's their dedication to quality and faithful tradition that's allowed Mamma Emma to deliver award-winning gnocchi for people to enjoy all over the globe.
About Mamma Emma Gnocchi
Mamma Emma Gnocchi got its start as a sister company of Master, an Italian gnocchi company started by Adriano Bianco and Giovanni Favretto in 1992 in Treviso, Italy. Adriano and Giovanni came together to implement the process and in-house machinery that is used to produce Mamma Emma gnocchi today. 

Mamma Emma is committed to environmentally sustainable practices and reducing their carbon footprint. In collaboration with Dolomiti Energia, Mamma Emma's production plant is powered through clean, hydroelectric power. As a result, the company was able to prevent over 5,970 tons of CO2 emissions within the last several years.
How to Prepare Mamma Emma Gnocchi with Porcini and Asiago DOP
1. Prepare a simple sauce 
Simply heat olive oil, butter, or your favorite Italian pasta sauce in a skillet over medium-high heat.
2. Add the Mamma Emma Italian Gnocchi with Porcini and Asiago DOP
Once your cooking liquid is hot enough, gently pour in your package of fresh gnocchi.
3. Sautee for 3 minutes
Gently stir to combine gnocchi with your cooking liquid or sauce. If your sauce gets soaked up too much, add a bit of water to the pan to allow gnocchi to finish softening. Serve and enjoy!
Origin: Treviso, Italy
Ingredients: 
Gnocchi - Potatoes, wheat flour, eggs, salt, sunflower oil.
Stuffing -  Asiago DOP, ricotta cheese spread, whey protein concentrate, porcini mushrooms, potato starch, concentrated extract of porcini mushrooms.
Weight: 12.34 oz., 350 grams 
Price: $6.49